I'm trying something new. I love writing and I find it to be therapeutic, especially if it is a brain dump. I decided to try Edublogs' "Personal Blogging – Create a Professional Educator Blog in 10 Steps" bootcamp. Well, it is a self-paced course, but I'm in speed mode and I'm a fast learner. If you haven't tried it, I recommend it. My favorite tip so far has been how to change the font style and size. There are tons of other tips that are very worthwhile, as well. I especially like the graphic found at the bottom of this page discussing 10 easy ways to make your blog posts easier to read. This was from the 3rd module when they talked about creating your first post. 
NEXT!
WHY WON'T MY FONT STAY CONSISTENT?!
In this current module, we're learning about extending our PLN. I have a pretty good one-way PLN going on Instagram and one I never visit on Facebook. For some reason, the education world is obsessed with Twitter, and personally, I don't get it! I hate Twitter. I don't understand it. Maybe it's because I teach elementary and we like pictures, and therefore IG is my jam. Maybe it was because in the beginning, they limited you to 140 characters and I love to talk so they always cut me off and made me change my writing to look like that of a pre-teen girl. If you want to follow my Twitter and my current one tweet, it's @coloringphd. If you would rather follow riveting images including those of my Black Swallow Tail nursery in the summer (as seen below), it's also @coloringphd. I love coloring and I'm darn good at it. ::toots own horn::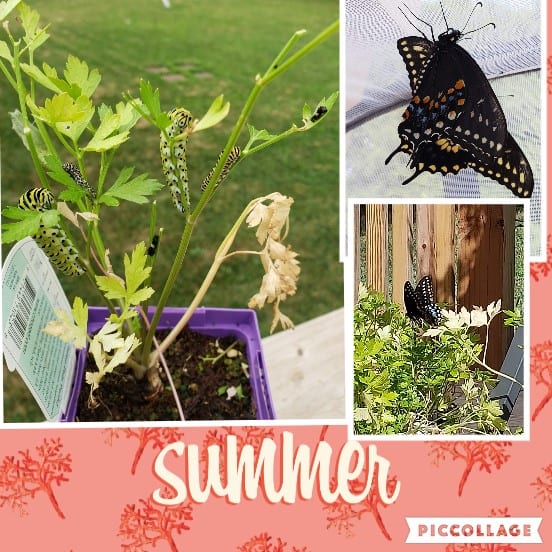 You will also see photos of my two fur babies, Max and Mew, and not so vague references to my love of the Chicago Cubs.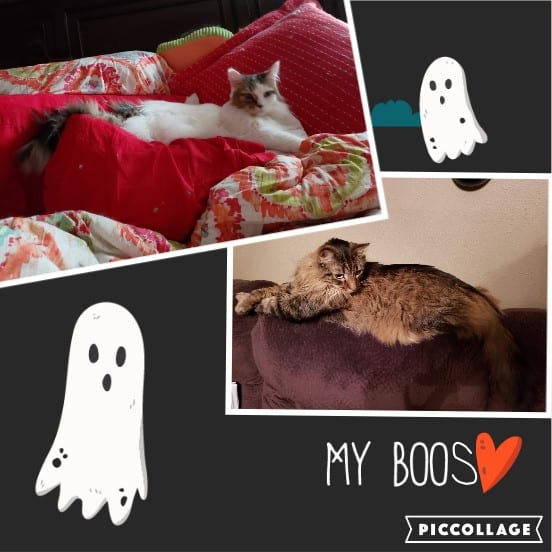 Module #5
Looking into the next module, I was messing with my widgets. Side note – apparently "widget" was a pre-computer age term. According to a quick Google search, it was a form of the word "gadget" and it first appeared around 1931. Crazy, right? Anyway, back to my widgets! I moved all of the stock widgets over to the right column to open it up a bit and I added the Tag/Category counter. I think I might move that too, because I do like the openness of the blog when everything is moved to the right. I looked at other blogs and found some fun ones but I'll have to look into where to get those. I think every blog should definitely have a search option, archives, categories/tags, and the tag/category counter. These widgets just make it easier to find things on blogs if you are looking for something specific.
STEP 6!
So we are now talking images…and to not steal them. I've heard of Creative Commons Licenses, but they were (and still kind of are) confusing to me. I like how most of them you can click on and see exactly what you can and can't do, which is super helpful. I've heard of sites where you can get "free use" images, like Pixabay and Openclipart, but they have a very useful list on this page that is worth checking out. For creating my own images, I like to use PicCollage (see above) or Adobe Spark. Both are easy to use and PicCollage is for Apple, Android, and Windows. There is also a PicCollageEdu, which I snagged for free in January when they were running a special. Now my kids can use it on our iPads and insert their own images on to their Seesaws. I like PicCollage because you can choose a template or make a free-style collage, use text or your own writing, insert stickers, or take a picture within the app. I have used other collage apps in the past, like Canva and Photo Editor on my Galaxy, but PicCollage is my go-to for ease of use and the ability to work on multiple platforms.
For posterity's sake, here is an image from the Compfight Plugin and it is what I imagine what my future will look like in about 40 years. Thanks, Ol'Pete.
EMBED IT!
There are a lot of "cool tools" to use and embed within the edublog. Check them out here in module 7. I would embed one of my Popplets here, but alas, without Pro, it's a no-go. Here is the link to my Popplet anyway.
Update! Here is my Popplet!
Inserting Video (Step 8)
If I were to insert a practice video I would make everyone watch flip-throughs of the newest Happy Planner stickers. It's like unboxing toys for adult women (and some men). I get it now, kids. I want to see all the things! I would embed the video below, but again, no Pro, no-go! Later…once I complete this course, I'll put in all the videos!
Update! Here is the unboxing for adult women of Happy Planner sticker books!
Here is a link (again, no Pro, no-go for embedding!) to a video I made with Lumen5 for a book project I did last semester. I highly recommend this series because it is plot twist after plot twist! Don't just stop at the first book!
Update! Here is my Lumen5 video:
Have I made video-shorts in the past? Yes. Have I received my hard-earned Oscar? Nope. I'm pretty sure I would qualify for writer, director, actress, and many others. Alas, Leonardo DiCaprio had to wait until he looked like a disheveled old man before he got his day in the sun, so I guess I have to wait, too. As requested, here is a still from a video I made using the green screen and DoInk app since again, no embedding. Yes, apparently I have a green forehead and no amount of adjusting could get rid of it. Laugh it up.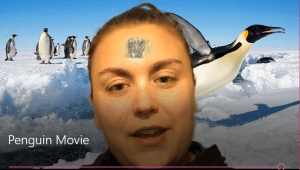 Plugins
For this module, I am supposed to activate some plugins. I already activated Compfight and used it for that fantastic picture above of Pete sharing cat vids with his cat. It really spoke to me on a spiritual level. 
I tried the table plugin and even colored it for fun. I'm having a wild time over here. Now, the Visual Editor Widget is for Pro only, so couldn't do that one. Instead, I added a "Print Post" plugin. Now you can print my posts and hang them on your fridge. That was for you, Mom. There seem to be a limited number of Plugins available to those without Pro, so I couldn't try very many.